Op-ed GESAC Board issues urgent creative sector warning
Last summer, EU member states committed to an unprecedent €750 billion recovery plan that now needs to be implemented in every country.
Turning over the COVID page will be a demanding challenge, but Europe can count on a major ally: its cultural and creative industries (CCIs). As emphasised in a new study, CCIs are much more than just another sector to bail out of the crisis, they are a significant component of Europe's solution to this crisis.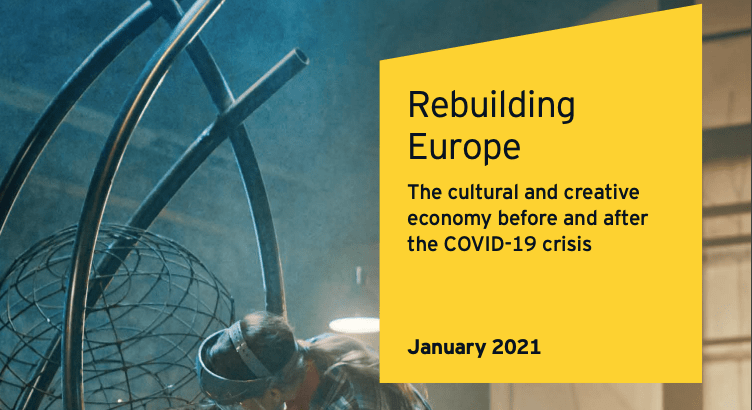 Indeed, CCIs are the beating heart of our economy. With €253b in GDP contribution, and an annual turnover of €643 billion, creative sectors are larger than telecommunications, pharmaceuticals, high technology and the automotive industry. The creative economy is also one of Europe's leading jobs providers, employing more than 7.6 million people. CCIs' growth is nothing new but based on long-lasting trends representing a trade surplus of €8.6billion – underlining the EU's status as a cultural powerhouse in the world economy.
At a time when European countries need to come together, CCIs are also a unique key to our political and social unity. They help us understand who we are and what we want to achieve together. They bring otherwise disparate groups closer together and promote modes of mutual understanding and dialogue. CCIs are diverse at their very core, employing more women (48%) and young people than the EU average, offering a glimpse of a future that Europe hopes to one day attain.
Unfortunately, this progressive role, inspiring and driving Europe forward, has been seriously threatened by the COVID-19 crisis. What is at stake today is the value CCIs create for our economy and our society.
The negative impact on CCIs is almost on a level unto itself. With a 31% drop (220 billion) in revenues for 2020, CCIs are some of the sectors most affected in Europe, only slightly less than air transport but more than the tourism and automotive industries. Figures from the performing arts (-90%) and music (-75%) sectors offer up a grim reality of an economy that has been utterly devastated. CCIs are all the more fragile as they are diverse: it's a world of small businesses and freelancers (who represent one third of workers in the creative economy), as well as large firms.
In the face of this unprecedented crisis, collective management organisations proved to be a major safeguard for the creative value chain, and in particular for creators, who are its most essential and most vulnerable link. CMOs immediately delivered first aid through grants, loans and advance payments of royalties, and raised awareness about just how fragile all stakeholders have become.
But these organisations themselves suffered greatly from the crisis, and for CCIs, the worst is still to come: a full recovery is not expected before 2022. In the absence of a significant resumption of offline activities in 2021, their ability to maintain and increase investment in new projects, creation and innovation will be seriously compromised.
Luckily, it's not too late to take action. CCIs can be an essential partner in a European recovery that fosters economic activity and centres social cohesion. Europe must pull itself up, respond to the urgency facing such a vital sector, and bring them new drivers for lasting growth.
We, the European authors' societies propose that CCIs are made the no.1 ally of the European economic recovery by implementing concrete solutions to tackle three main challenges identified in the study.
First, let's prepare the recovery. 2020 was a stop-start year and cultural venues closed doors to differing degrees throughout EU countries. But, what CCIs now need is clarity about what lies ahead. European Member States must put forward a coordinated post-lockdown strategy for cultural venues, with  common steps to take, timelines to respect and health and sanitary requirements to be fulfilled to enable a gradual relaunch of activities.
Preparing the recovery also means financing: massive public funding is needed urgently to allow CCIs to recover. We urge the EU and Member States to consider CCIs a priority sector that may benefit from the "Next Generation EU" recovery funds. This should be duly reflected in the preparation and evaluation of national strategies.
Second, empower: we call for a solid legal framework to allow for the development of private investment in production and distribution, and to ensure fair remuneration for creators. In particular, we call for a swift and effective implementation of the Copyright Directive, and fairer conditions for creators in the digital economy.
Third, leverage: cultural and creative industries – and the multiplied power of their millions of individual and collective talents – should be used as a major accelerator of social, societal and environmental transitions in Europe. Culture is a soft power that enables the promotion of European values and can act as a catalyst for greater societal cohesion, more inclusive and sustainable growth, and a sustainable green and digital transition.
We, the members of GESAC, are willing to work with European policymakers to implement this roadmap and succeed in making CCIs Europe's no.1 ally for recovery. Time is running out. Let's do this, together. Let's do it now.
 
Signatories – GESAC Board Members:
Jean-Noël Tronc President of GESAC and CEO of SACEM
Harald Heker Vice-President of GESAC and CEO of GEMA
Victor Finn Vice-President of GESAC and CEO of IMRO
András Szinger Vice-President of GESAC and CEO of ARTISJUS
Carine Libert CEO of SABAM
Gaetano Blandini Managing Director of SIAE
Gernot Graninger CEO of AKM
José Jorge Letria President and CEO of SPAUTORES
Karsten Dyhrberg Nielsen CEO of STIM