Rebuilding Europe with Culture event
On 8 December we will hold an online event Rebuilding Europe with Culture.
With the participation of Jean-Michel Jarre, internationally renowned electronic music pioneer, organised by GESAC in cooperation with MEP Christian Ehler and the Federation of European Book Publishers.
The event will gather high level EU and national decision-makers to discuss Europe's response to the urgent needs of one of its most vibrant sectors inviting them to share their views on the role culture will play in the recovery of the European economy, and showcase their policies and plans.
​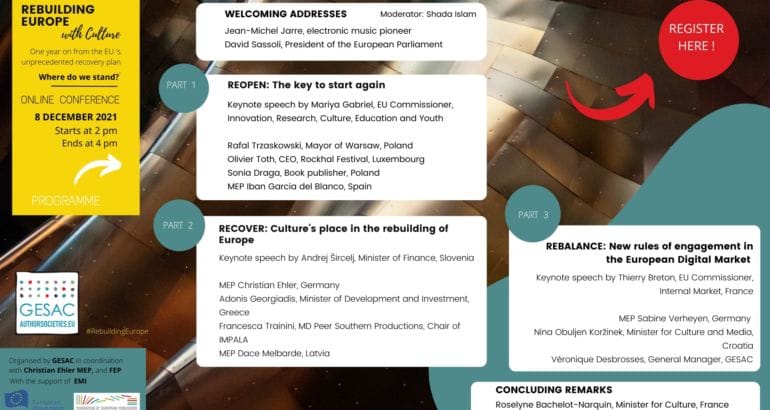 The discussions will centre on three themes:
Reopen – the key to start again
Recover – culture's place in rebuilding Europe
Rebalance – new rules of engagement in the EU Digital Market
Rebuilding Europe with culture is a bold statement. It derives from the Rebuilding Europe EY study released at the start of 2021. The study starkly laid out COVID-19's destruction of European creative industries, but it also delivered a message of hope: if properly supported, Europe's rich and diverse creative economy could lead an economic and social recovery, spurring the kind of change that will propel Europe into the future.
European decision-makers responded positively to the study, pledging budgetary increases and supporting efforts to reopen cultural venues. Many Member States did likewise, pledging investment and support to reignite their local cultural scenes.
This event, takes place roughly one year after the EU launched its unprecedented historical financial plan for the recovery of European economy after the Covid-19 pandemic, six months after Member States submitted their recovery plans, and the start of the operational phases of European programmes, such as Horizon Europe, InvestEU, Creative Europe.
It will allow prominent figures from the European Commission, European Parliament and national governments to exchange information and share views about the progress made so far for the recovery of the cultural sector and their plans for 2022. Alongside this, creative industry representatives and high-profile personalities will report on the situation on the ground and present a vision for the future.
The Cultural and Creative Industries have been identified by the European Commission as one of the 14 key ecosystems for Europe. The recent GESAC commissioned EY study confirms CCIs as a key driver for the economy, representing 4.4% of EU GDP in terms of total turnover in 2019, and employing 7.6 million people, 8.4 x more jobs than in the telecommunications industry.
CCIs were one of the hardest hit sectors during the pandemic, with a loss of approximately 31% of revenues; a sharp fall that affected the entire CCI value chain for a long time.