Authors' societies launch worldwide #CreatorsforUkraine campaign
CISAC, international umbrella organization of collective management societies, and its members worldwide have launched "Creators for Ukraine", a global initiative to:
raise money for victims of the war,
mobilize support from creators worldwide and,
promote Ukrainian culture.
The new support fund is the first step in this initiative. Donations made to the solidarity fund will be used to help refugees fleeing the war as well as projects specifically targeted at helping Ukrainian creators.
In May, two months after its initial launch, #CreatorsForUkraine fund reached €1.4 million and counting. A significant part has already been distributed to individual creators in Ukraine, to humanitarian organisations and to specific projects aiding Ukrainian refugees in neighbouring countries.
In addition to raising funds, the global project aims to mobilise support from creators internationally: an open letter from creators across the world is circulating, calling on "Russia to cease its killing of innocent civilians, its destruction of towns and cities, its assault on freedom and democracy, its violation of human rights, and its attack on culture." All creators everywhere are invited to join this initiative, sign this message and share it using the hashtag #creatorsforukraine.
We are happy to announce that more than 4000 artists from around the world have signed an open letter to support creators in Ukraine and call on Russia to stop its assault in "one united voice". The signatures were delivered to Ukraine's Minister of Culture Mr. Oleksandr Tkachenko by CISAC President Björn Ulvaeus as part of #CreatorsForUkraine initiative – a global initiative to raise money for victims of the war, mobilise support and promote Ukrainian culture.
Finally, in order to promote Ukraine culture, people everywhere are encouraged to listen to and watch Ukrainian content on streaming platforms and share their favorite song, etc. on social media using the hashtag #songsforukraine. More details on this website.
Last but not least, Ukrainian authors' society, NGO UACRR, together with the Polish authors' society ZAIKS and international umbrella organisation CISAC, launched a project called Voices of Creators to hear Ukrainian author's voices and testimonies.
"Creators for Ukraine" is being rolled out in close partnership with European authors' societies neighbouring Ukraine, who are already running several aid schemes (see below), and is also fully supported by GESAC.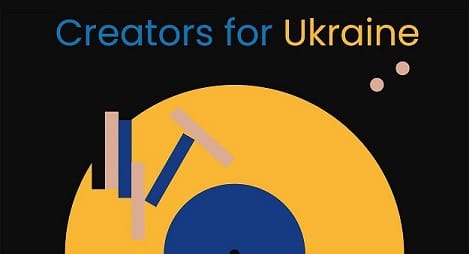 ZAiKS manages the operational aspect of the International Aid Fund #CreatorsForUkraine. They also provide direct grants for Ukrainian creators coming to Poland and set five "Houses of Creators" which are already hosting first refugees.
SOZA set funds to provide humanitarian aid to Ukraine. To further help Ukraine, SOZA is launching a public fundraiser through the Donio platform, as well as a partnership with events called  Concert for Ukraine, which took place in the largest Slovak cities. All the money raised will go to the humanitarian organizations that provide assistance to Ukraine.
SOZA has as well created a special call to help music artists and authors from Ukraine who are in Slovakia due to the war conflict in their country. To date, SOZA is opening a call based on a decision of the Supervisory Board, in which authors and artists from Ukraine located in Slovakia can apply for financial aid to ensure basic living needs. The call is intended for music artists and authors from Ukraine who has found themselves in Slovakia due to the war. The obtained aid can be used to secure the basic cost of living. Artists and authors from Ukraine can join the call by completing a short application, which is available here.
OSA is also holding a fundraiser to support Ukrainian authors and artists. The money from this collection will be used in two ways:
To help sister authors' society UACRR in Ukraine to ensure the payment of support to needy authors and their families.
To cover the basic costs associated with the accommodation of family members of Ukrainian authors in the Czech Republic.
AKKA/LAA, the Latvian authors' society donated 50 000 EUR to the #StandWithUkraine campaign. Moreover, by the decision of the Board, the Latvian authors' society is granting free copyright licences for concerts and other events held in support of Ukraine, if 100% of gross receipts are being donated. Nevertheless, remuneration for Ukrainian authors is still collected. In the frames of the "StandWithUkraine project, several events were organised in the past – "Latvian Rap Artists Against War in Ukraine", a benefit concert in support of Ukraine, Daugavpils, etc. In addition, the front man of the Latvian band "Prāta vētra"/"Brainstorm" Renārs Kaupers sang "My Song" in Ukrainian, a language, he otherwise does not speak. Aleksandra Špicberga, one of the most versatile singers of the new generation in Latvia, wrote a prayer to Jesus in Ukrainian, together with a male vocal group.
AKKA/LAA members also provide help on a daily basis, including the singer and Eurovision 2002 prize winner Marija Naumova, who, with her husband, has helped more than 3 500 Ukrainians that fled to Latvia.
SPAutores, GESAC Portuguese member, published a song "Azul e Amarelo. O Destino", meaning "Blue and Yellow. The Destiny. The lyrics of the song were originally written by José Jorge Letria, Portuguese poet, composer, CEO of SPAutores and GESAC Board Member, whilst Carlos Mendes, Portugues singer, actor, and composer, composed the music, and well-known Portuguese artists are the ones performing it – Amélia Muge, António Manuel Ribeiro, Carlos Mendes, Mafalda Veiga, Paulo de Carvalho, Rita Redshoes, Tozé Brito, Vitorino Salomé and Viviane.
The royalties of the song will go to help Ukraine.
ARTISJUS initiated #SongsForUkraine, a global campaign to promote Ukrainian culture. Radio and television stations and other music providers are called on to select Ukrainian songs for their channel's programs. Fans are encouraged to listen to and watch Ukrainian content on the streaming platforms and share their favourite song, etc. on social media using the hashtag #songsforukraine. By joining Songs for Ukraine, people everywhere in the world can express their solidarity with Ukraine and help earn  extra income for the creators at the same time. The royalty coming from the plays on licensed platforms (radio or TV stations, streaming platforms) will reach the authors of the Ukrainian songs through the Ukrainian authors' society.
Artisjus has compiled playlists that contain Ukrainian songs and are genre-diverse, in collaboration with UACRR.