GESAC is hiring a Communications Assistant (+/- 5 months)
GESAC is looking for a highly motivated junior colleague to reinforce temporarily its Secretariat in Brussels.
Read the full job description below.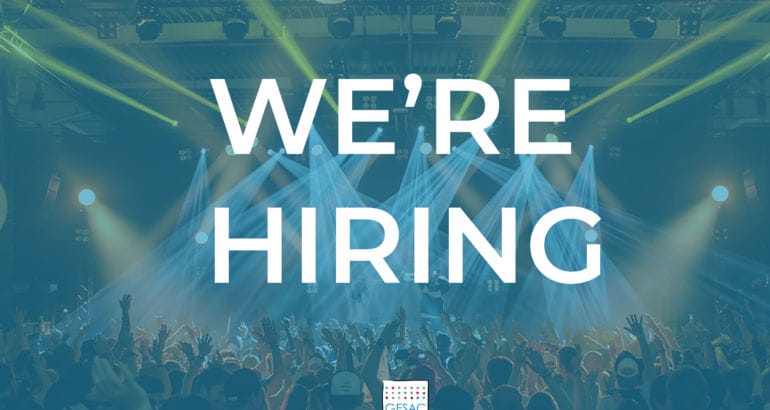 GESAC comprises authors' societies from across the European Union, Iceland, Norway, and Switzerland. As such, we represent more than 1 million creators and rights holders in the areas of musical, audiovisual, visual arts, and literary and dramatic works. Our missions are to advocate for fair remuneration for creators, especially online; to ensure a sustainable creative and cultural ecosystem and to promote collective management as the best solution to respect and protect authors' rights
Main functions:
Act as a point of contact on communications matters for our members: provide information and coordinate efforts
Contribute to the development and implementation of GESAC communication and media output and manage our communication tools (e.g. website, social media).
Prepare fact sheets, press releases
Create and/or assist in the production of other communications materials such as flyers, banners, infographics and brochures.
Create, maintain and strengthen links with international media in Brussels to promote the work of GESAC and to better position the organisation as a point of reference for creators and their rights.
Execute other tasks in support of the day to day management of the Secretariat (support for the preparation of meetings, reporting activities)
Education & skills:
University degree (Bachelor's or Master's degree) in communications, public relations, journalism or a related field.
A native English speaker or equivalent level, both written and spoken. Fluency in French and other European Union languages is an advantage.
Demonstrated high competency as a writer and editor in English.
Knowledge of graphic design, web, social media and/or video production
Excellent communication, presentation and interpersonal skills as well as strong creative thinking.
Ability to learn and develop within a fast-paced working environment.
High degree of attention to detail and commitment to quality.

Experience:
Proven professional experience (e.g. traineeship) in positions with tasks closely related to the ones describe above is a strong asset.
Previous professional experience in an EU communication role in EU institutions, international organisations, NGOs or trade associations is an asset but not a prerequisite.
Interest in and/or previous knowledge of EU policies and/or EU tech policies is also an advantage.
What we offer:
+/- 5 month contract starting on 15 November 2022.
Please send your CV and a max 1-page motivation letter to secretariatgeneral@gesac.org before 1st October 2022.