Royalty collections 2019: what the figures reveal
What were European authors' societies' royalty collections for 2019 and what do they tell us about creators' earnings today?
In total, authors' societies collected €5.7 billion in royalties in 2019.
This pie chart shows the breakdown of that number and uncovers three major talking points that we cover below.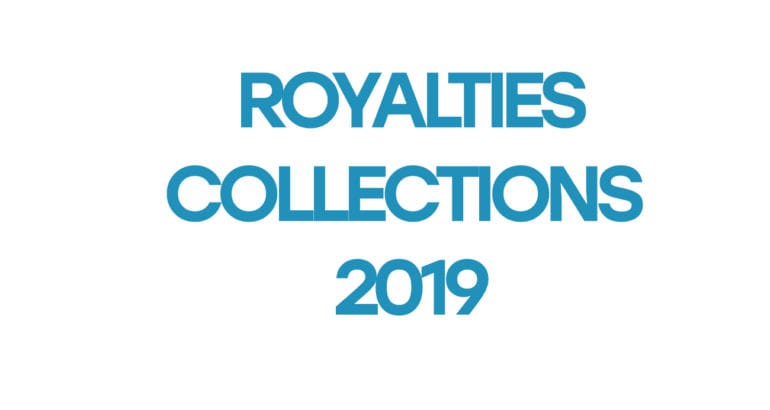 1. Demystifying digital revenues
The pie chart reveals a stark disconnect between the exponential growth of online music consumption and the percentage of authors' society royalties obtained from streaming and downloads.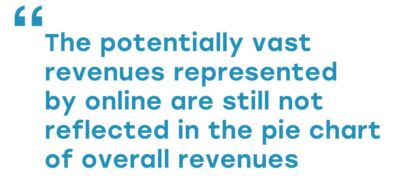 Though collective management has proven a stable and sustainable model during the digital transition, authors' societies are still getting a raw deal when it comes to royalties generated from the internet, as the 16% figure shows.
Digital now accounts for the lion's share of their revenue elsewhere in the music industry, where revenues are directly related to the "format" of creative content (as opposed to the usage), as the below chart from IFPI shows.
However, digital revenues are still yet to reach the heights of pre-internet income driven by sales of CDs and other physical copies of creative content.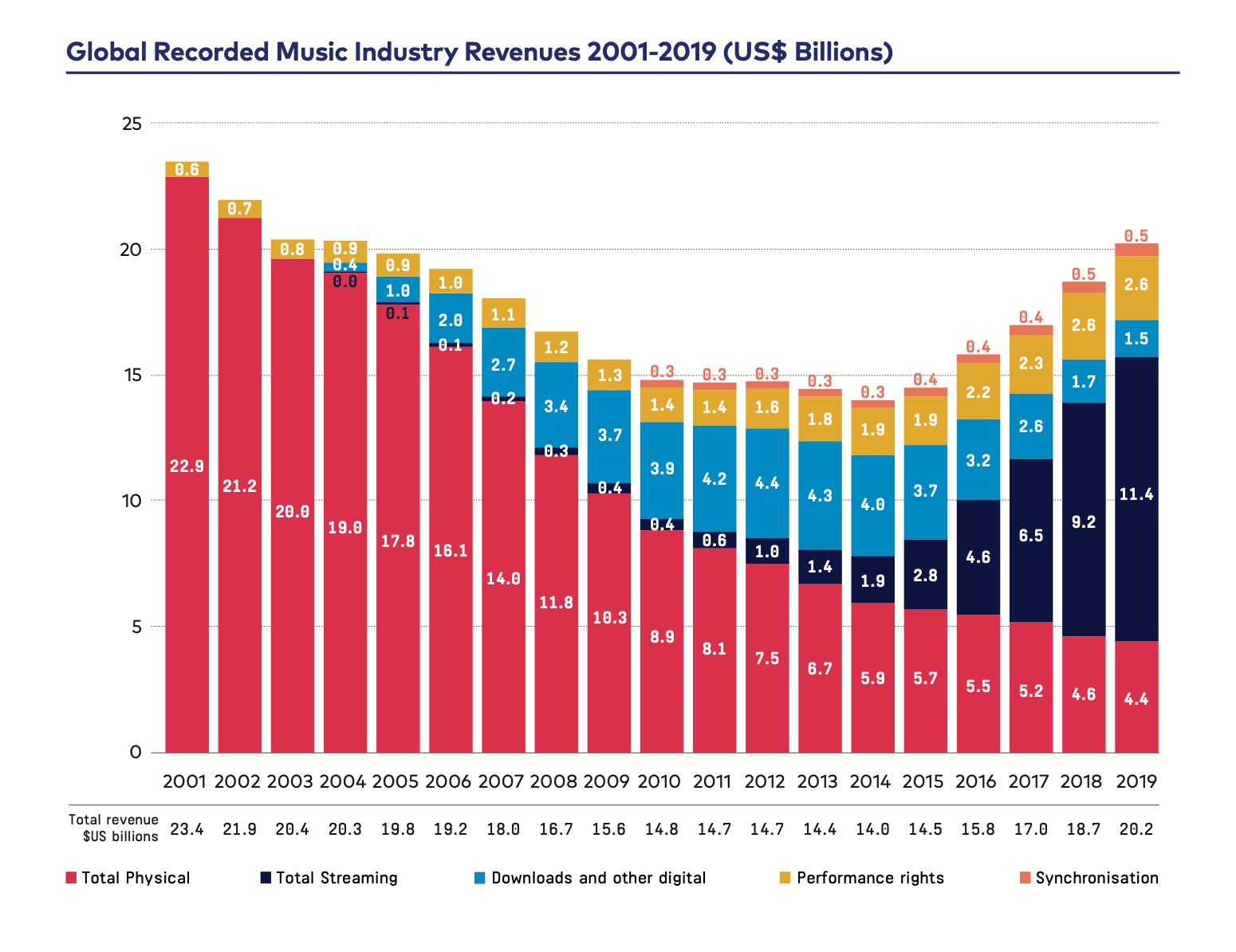 During the same time in which the music industry was experiencing significantly lower revenues, authors' societies' income continued to grow steadily. This is thanks to a sustainable model based on collective management of rights for the use of works across the different usage segments.
Authors' exclusive rights also provide them with significant revenues from the constantly evolving TV/radio market, live events and music played in the background in public spaces.
However, the potentially vast revenues represented by online are still not reflected in the pie chart of overall revenues. This is because the legislative framework on the legal status of the biggest users in the market has been far from clear.
Online content sharing service providers, like YouTube and Facebook, have long hidden behind the loophole of declaring themselves unaccountable hosting services. Given their popularity, this severely impacts the income of the creators whose work they make available. You can read more about this here.
The recent copyright reform should improve online revenues in the coming years once its transposed and properly implemented across the EU.

2. COVID-19 to hit 'background' and 'live' categories
As the 19% figure shows, background music is an important category for European authors' societies. Though it may go relatively unnoticed by customers, bars, cafés, hotels, restaurants and all sorts of other venues see background music as an essential aspect of their service and ambience. For this reason, they pay fees to authors' societies to ensure they have access to music for every type of occasion.
The closure of venues during COVID-19 lockdowns and the permanent closure of businesses means that creators' second highest source of revenue will have taken a big hit this year. Next years' figures will reveal the full extent of the damage.
Much the same can be said for live performance revenues, the third highest income stream for creators.

3. It all adds up 
While often overlooked in favour of the top three categories, and the sluggish growth of online revenues, private copy is still a vital income stream for European creators.
Not familiar with Private Copying? Read our explainer here.
Creators often rely on revenues from multiple categories to get by, and to fund future creative projects. With COVID-19 negatively affecting the top three income streams this year, it is likely that private copying remuneration will become ever more important in the months and years ahead.

*This pie chart excludes 16% of collections, categorised as "others", that include international collections and mandates