Authors' societies respond to COVID-19
Financial support, food packages, 24-hour helplines – European authors' societies continue to mobilise in the absence of adequate member state support for Europe's creative sector.
Europe's collective management organisations (authors' societies) are still working under difficult circumstances, with severely reduced resources, but that has not stopped them from rallying to help their members (creators).
GESAC's Rebuilding Europe EY study, released in late January this year, found that with the exception of the air transport industry, Europe's cultural and creative industries have been the worst hit by the COVID-19.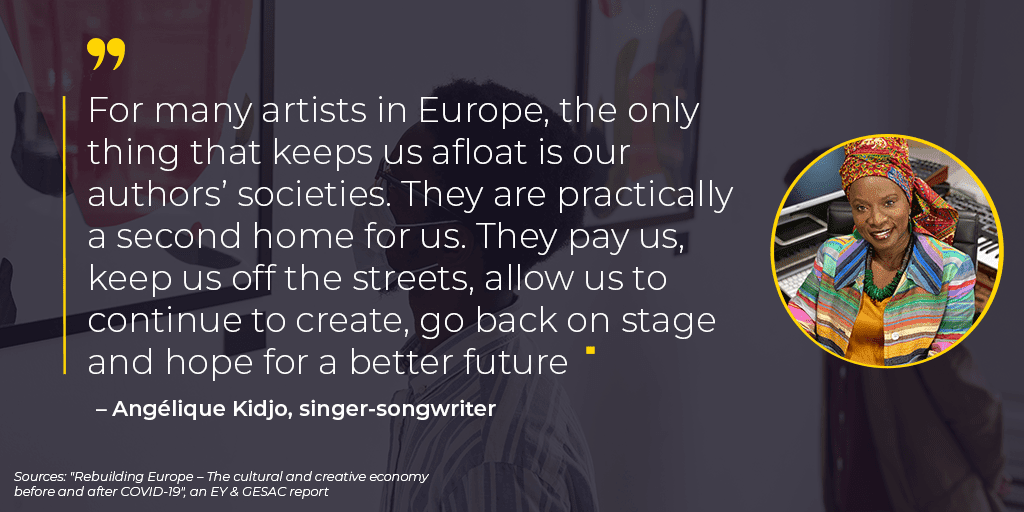 The study details the risk of the crisis' potentially long-lasting effects and the decisive action EU and members states should take to reignite a sector that is as important for social well-being as it is for Europe's economy.
GESAC members continue to advocate that at least 2% of national recovery funds be dedicated to the cultural sector. In the meantime, they are taking steps to support their business partners and members.
See below for what authors' societies are doing for creators in each country.
Austria
Belgium
Bulgaria
Croatia
Czech Republic
Denmark
Estonia
Finland
France
Germany
Greece
Ireland
Italy
The Netherlands
Norway
Poland
Portugal
Slovakia
Spain
Sweden